Shaheen Chevrolet Lease Pull Ahead Headquarters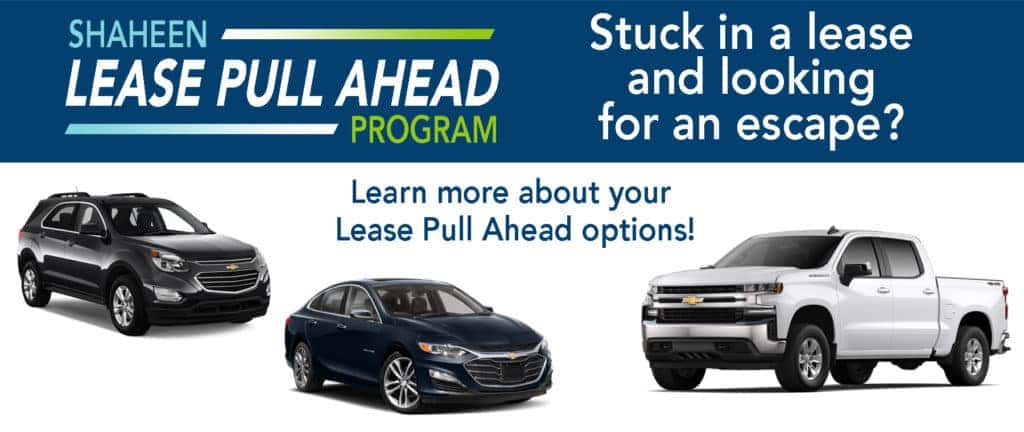 Stuck in a lease and looking for an escape? Need something new?
Whether you want to avoid expensive over mileage fees or are simply looking to get behind the wheel of a newer and fresher ride, Shaheen Chevrolet offers a number of Lease Pull Ahead options to get you out of your current lease and into a brand new Chevy car, truck, or SUV.
Don't worry about the length of time left or the amount of your payments – Shaheen Chevrolet has your solution. Our many leasing options will ensure that you satisfy your previous lease terms and are still able to afford monthly payments on a new Chevrolet.
Reasons You Might Want to Terminate Your Lease Early:
–   You've driven it more than planned and are now almost over your allotted miles.
–   Your large SUV is not fuel-efficient enough to affordably handle your new commute.
–   You no longer need a vehicle at all, or you want to buy instead.
–   The sedan you're currently leasing is no longer suitable for your growing family.
–   The small coupe you drive isn't right for the rough terrain that you now travel.
–   You need to cut back your monthly spending, and returning your premium truck is the way to go.
–   You are unsatisfied with your lease and the model you selected.
Regardless of the reason behind your lease-end decision we can help you.
Simply fill out the form below and one of our Lease Pull Ahead Specialists will be in touch shortly with more information, or chat with one directly at
(517) 272-6588

.

May not compatible with other discounts or offers. Offer ends 8/31/2021. See dealer for details.