Compare Silverado EV vs F-150 Lightning & Sierra EV
Embracing a new way of driving doesn't mean giving up the power you love with full-size pickup trucks. The upcoming Chevy Silverado EV features all-electric capability, allowing you to recharge your battery and hit the road, ready to go. The new Chevy Silverado EV offers a range of innovative, exciting features we can't wait to show you. The lineup rests on the Ultium Platform, a unique solution making electric propulsion, pulse-pounding torque, and zero emissions more than a dream – a reality! We can't wait to help you explore the upcoming all-electric Silverado pickup in Mason, MI!
However, the lineup won't be alone on the playing field. Powerful rivals like Ford F-150 Lightning and GMC Sierra EV are on their way and ready to impress. Below, you'll find our comparison of the Chevy EV truck against its competition. See how they match up and visit us at Shaheen Chevrolet today to learn more about the all-new Chevy Silverado EV!
Compare the All-New Chevy Silverado EV to the Ford F-150 Lightning and GMC Sierra EV in Lansing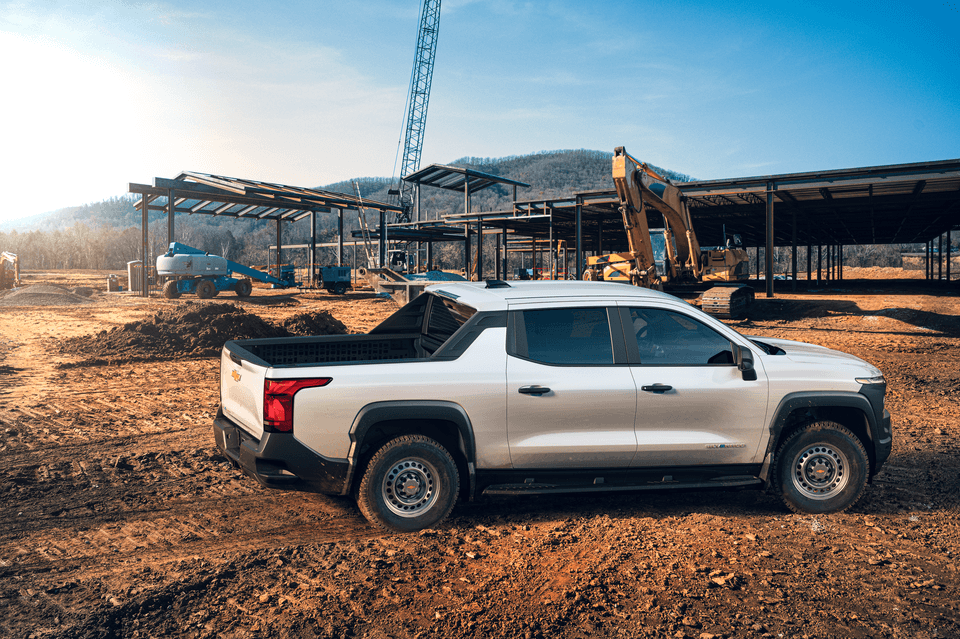 Chevy Silverado EV vs. Ford F-150 Lightning
Power still matters, regardless of the pickup you want. The Chevy Silverado EV and Ford F-150 Lightning feature muscular powertrains, propelling you forward without losing a step. However, the Ford F-150's Extended Battery Configuration only offers 563 horsepower and 778 pound-feet of torque. The Chevy Silverado's Wide Open Watts capability provides the most power, delivering 660 horsepower and 780 pound-feet of torque. If you're looking to hook up a trailer and go around East Lansing, both models allow you to tow heavily-laden trailers worry-free. The Chevy Silverado EV can tow a maximum of 10,000 pounds, similar to the Ford F-150 Lightning. However, the upcoming Silverado EV WT trim doubles its towing capacity, managing 20,000 pounds. The F-150 Lightning can't match this output. Of course, you can't enjoy the performance from your all-electric truck without enough juice to get around Charlotte, MI, right? The Chevy Silverado EV provides an EPA-estimated range of over 400 miles from its Ultium Platform battery. The Ford F-150 Lightning features two battery pack options, but neither comes close to the Silverado EV's range – the Ford F-150 Lightning's Extended Range battery tops out at 300 miles. Are you interested in features? The Chevy Silverado EV has them! Front trunk storage, modernized LED lighting, and an aerodynamic frame all work to improve your experience at the worksite or around your home. However, the Chevy Silverado EV also sports the new Multi-Flex Midgate with Pass-Through option, allowing you to accommodate features up to 10-feet in length! The F-150 Lightning does not offer a similar feature.
Chevy Silverado EV vs. GMC Sierra EV
The details are sparse for the GMC Sierra 1500 EV, recently joining the GM lineup of all-electric vehicles with the latest announcement. Of course, it has a long way to go before it can match up to the Chevy Silverado EV. The Silverado EV enjoys a single-transmission, all-electric engine, coming standard with four-wheel drive and seating up to five passengers. The GMC Sierra EV offers similar configurations, boasting four-wheel drive and a single-speed transmission. However, the GMC Sierra EV's range remains a mystery. If you want to wait for the GMC EV truck, you'll need to hope that you get the same range offered by the Chevy Silverado EV, which achieves an estimated 430 miles. The Chevy Silverado EV's frame stretches 232 inches long and 76 inches high. With a max width of 81.2 inches and a wheelbase spanning 148 inches, the Chevy Silverado EV dominates the road and conquers your tasks. The GMC Sierra EV should have similar proportions, but without more information, our pick is the Chevy Silverado EV for top-notch performance, capability, and convenience!
Learn More about the Chevy Silverado EV at Shaheen Chevrolet
Eager to be the first in your Lansing, East Lansing, Charlotte, MI, or Mason, MI neighborhood with the best EV pickup on the road? Consider the upcoming all new Chevy Silverado EV pickup today! We'll help you learn more about the lineup and show you how to reserve your very own model!