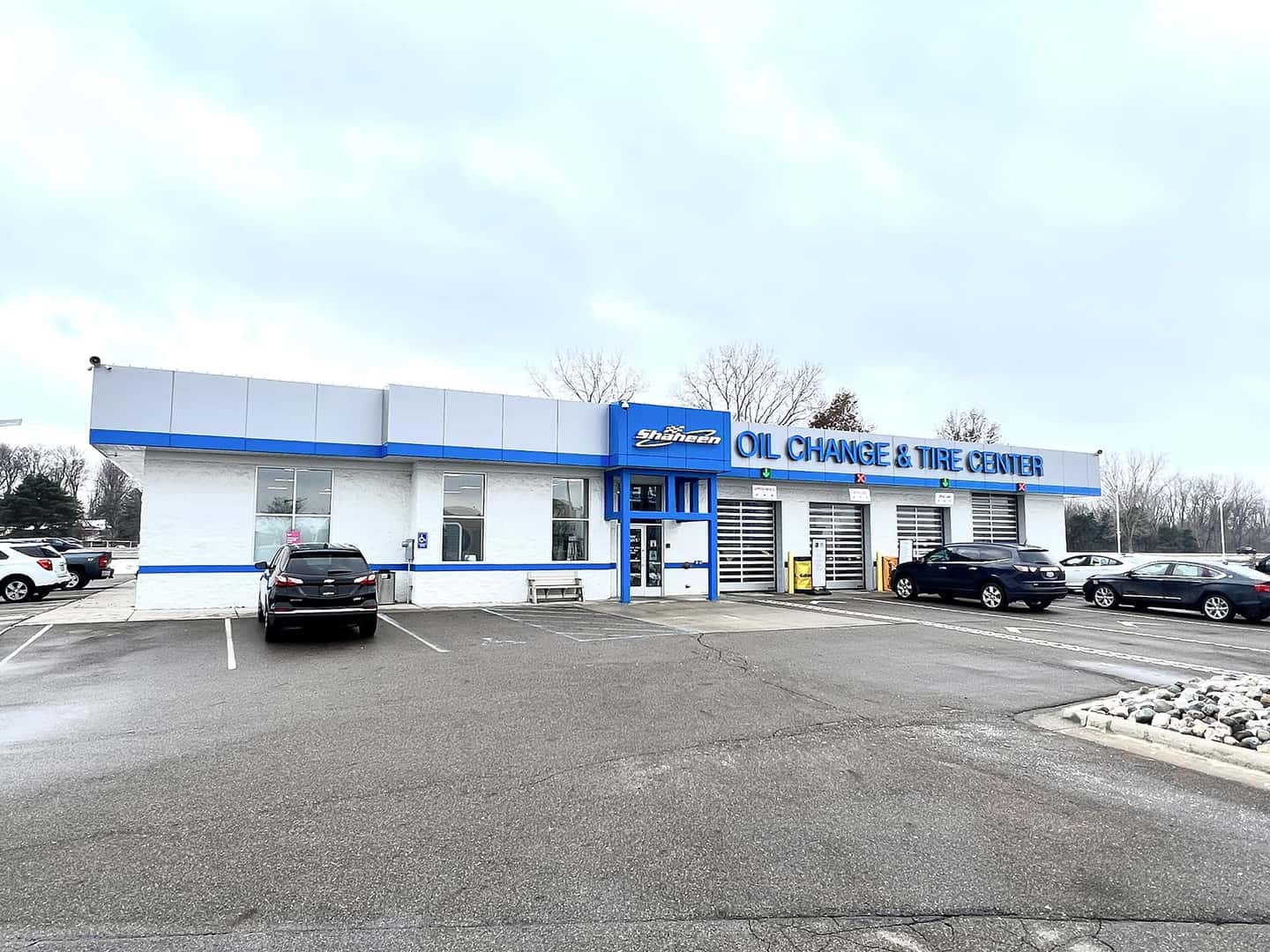 Visit the #1 Oil Change Facility in Mid-Michigan
You expect your vehicle to run smoothly. That means keeping your oil performing at its peak. When it's time for an oil change, your Shaheen Certified Service experts are ready to help. We offer oil changes with a four-tire rotation and a Multi-Point Vehicle Inspection.
Choosing the right oil
Choosing the proper grade of oil is crucial to your vehicle's performance. From conventional to full synthetic, your Certified Service expert will offer a range of oil types, including ACDelco Gold Conventional Oil, ACDelco dexos1™ Full Synthetic, and Mobil 1™ Full Synthetic.
These oils contain a variety of characteristics that can affect your vehicle's performance, offer varying levels of engine protection, and maximize the time between oil changes.
ACDelco Gold Conventional Oil
Offers quality engine wear and corrosion protection
Contains special additives that help your engine run smoothly
ACDelco dexos1 Full Synthetic Oil
High resistance to oxidation, which helps keep the oil from breaking down
Excellent low-temperature flow and pumpability during cold startups
Excellent protection to help prevent formation of sludge and other harmful deposits
Mobil 1 Full Synthetic Oil
Advanced anti-wear technology for outstanding protection of critical engine parts
Exceptional high-temperature stability helps resist oxidative thickening
Proven to provide outstanding cold starting, lubrication, and protection from wear at low temperatures
Ask our experts which grade is best for your vehicle. You may also refer to your Owner's Manual for more information.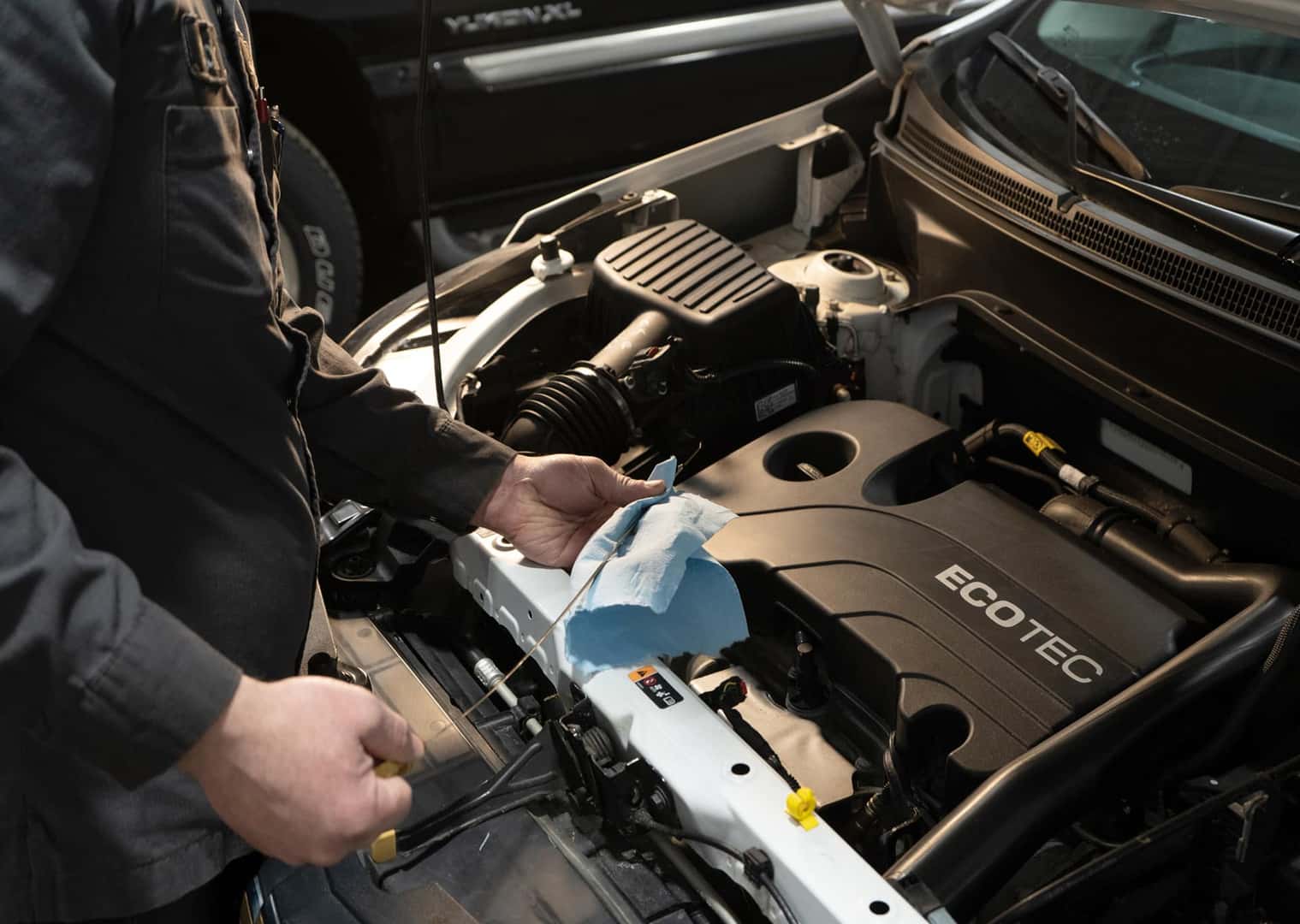 Oil Life Monitoring System
Many of today's vehicles are equipped with an Oil Life Monitoring System. This system interprets your vehicle's speed and engine temperature and continuously monitors operating conditions, which helps determine when it's time for an oil change.
The Oil Life Monitoring System monitors a number of conditions, including engine revolutions, engine temperature, and miles driven to let you know precisely when to come in for an oil change. As soon as you notice your vehicle's oil light illuminate, it's time for service.
Checking your oil level
Even with an Oil Life Monitoring System, it's important to keep track of your oil level. Always consult your Owner's Manual for the proper procedure to check your oil level. You'll get a more accurate dipstick reading by following those instructions.
When To Get An Oil Change
When your oil is at 20% it's time for an oil change. When your oil is at 0% you have 500 more miles to drive and it may void your warranty.
The engine oil and filter must be changed at least once a year and the Oil Life Monitoring System must be reset. The Shaheen Certified Service experts will do this for you.
Consult your Service and Maintenance Schedule contained within your vehicle Owner's Manual for proper change intervals.
What To Expect During A Certified Service Inspection
Remaining Engine Oil Life
A quick inspection will determine your vehicle's remaining oil life percentage (applicable to vehicles with the GM Oil Life Monitoring System). This may be helpful, especially if you are approaching your next oil change.
Tire Wear
Your tires are part of what keep your vehicle moving safely down the road. Shaheen Certified Service Technicians check to make sure your tires are properly aligned, balanced, and in top shape. This will help ensure the optimum performance and safety of your tires.
Wiper Blades and Glass Condition
Your wiper blades are essential, especially when it's raining. The operation and condition of front and rear wipers are checked to make sure they work well when you need them. A visual inspection of your windshield is completed to check for cracks or chips and the inspection may help prevent further damage down the road if these issues are addressed.
Fluid Levels
Fluid levels are checked, including the brake reservoir and windshield washer fluid, to be sure they are at proper levels.
Brakes
To help keep your brakes performing at their best, an inspection is performed on the condition of your brake system, including lines, hoses, and the parking brake, as well as measurements of the front and rear linings.
Battery Condition and Connections
No one wants to find dead battery in their vehicle. A quick battery test will determine the health of your battery, and a visual inspection will ensure the battery cables and connections are in working order.
OnStar Subscription
A brief assessment will make sure you are connected with your OnStar system subscription
Additional Vehicle Inspections
An additional vehicle inspection of critical systems is performed to check for visible leaks that might indicate a concern. The condition of other vehicle components is also visually inspected.
Frequently Asked Questions
Q: Should the engine oil be replaced every 3,000 miles?
A: Depending on the age of your vehicle, driving habits, and road conditions, your engine may be designed to go longer than 3,000 miles between oil changes. Always be sure to check your engine oil level regularly, even with an Oil Life Monitoring System.
Q: Does regularly changing my oil filter help with the life of my engine?
A: Yes. An oil filter helps ensure your engine is lubricated with clean oil, which is important for optimal engine performance. Both your vehicle's oil and oil filter should be changed at least as often as recommended by your Oil Life Monitoring System and/or Owner's Manual.